The year 2016 will have given us cold sweats in the first part of the year. First of all during the very mild and dry winter, followed by a cold spring punctuated by periods of heat. Spring during which many vineyards in France were affected by frost or hail. Fortunately, our region was spared by these scourges.

2016 will be marked by a warm, sometimes cool and windy summers, but above all by an exceptional dryness, and by an important heat wave early September, with beautiful thermal amplitudes between day and night, which is a favorable factor for a good Synthesis of polyphenols.
The terroir of the Domaine de l'Amauve is fortunately well supplied in clays, which allowed, despite this particular climatomy, a good supply of water to the vineyard.
The heat of the day forced us to harvest only in the morning in order to respect the grape harvesters and the harvest.

The harvest was therefore longer than usual: We started the grape harvest on September 2nd and finished on September 22th.
The grapes were of high quality and matured perfectly in the warm atmosphere of this late summer.
The wines of this vintage have a beautiful freshness, a lot of expression, and the red wines, nicely structured, already present tannins of a great finesse.

2016 epitomizes an exceptional vintage.
The team for the harvests in 2016.

.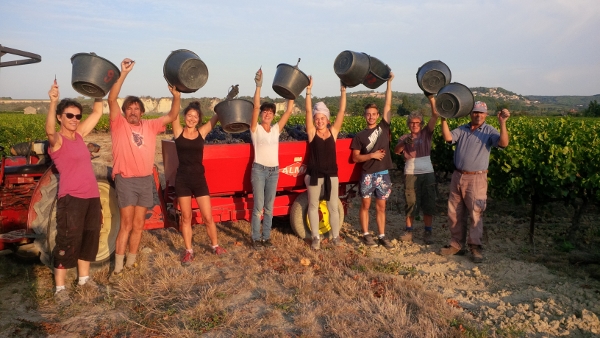 .
In 2016, the team was :
Mohamed, Denis, Julien, Juliette, Laurence, Audrey, Hervé, Monique, Nicolas (not on the photo).