The Winter 2017 is normally cold, but dry.
The mild weather starts from the end of February.
There follows an alternation of mild periods and cold and windy periods.
On the night of April 20, a wave of icy air settled over France. The temperature falls down to -6 ° C on some areas. All vineyards are affected.
Our sector of Séguret is miraculously preserved because of the Mistral wind who blows and homogenizes the temperatures.
The rains fall late, from March to June, which will allow a good water supply of the vine until the end of August.
The first treatments of the vine are difficult to do because of wind or rain.
Storms break out punctually. Sometimes they bring some hail. Some vineyards are affected.
Some big variations in temperature at the beginning of June have had as result an important fruit set on the Grenache.
From mid-June, a great drought is taking place.
The heat comes also at this time, but without becoming too hot.
On August 31th, in Séguret, the rainfall since the beginning of the year is only 294 mm.
The grapes ripen slowly due to lack of water.
The concentration of the berries is established. The berries are small. Yields will be low.
The clays present in the soil at Séguret still provide a minimum water supply.

At the Domaine de l'Amauve, the harvests have began on August 21th.
The first grapes harvested are Grenache blanc and Viognier.
Then we continue the harvests with the first rosé wine ever made at Domaine de l'Amauve : (IGP Vaucluse and AOC CDR Villages SEGURET).
The first red grapes are harvested on August 28th. The drought is then well established. The harvest ends on September 12th. It was time, the vines began to suffer.
The health of the grapes was absolutely perfect. The quality of the juices suggests an excellent vintage, without excess of maturity and then alcohol in the wine.

In conclusion, 2017 will be a reference year for drought, with small generalized yields and a good quality which is confirmed during the winemaking.
The team for the harvests in 2017.

.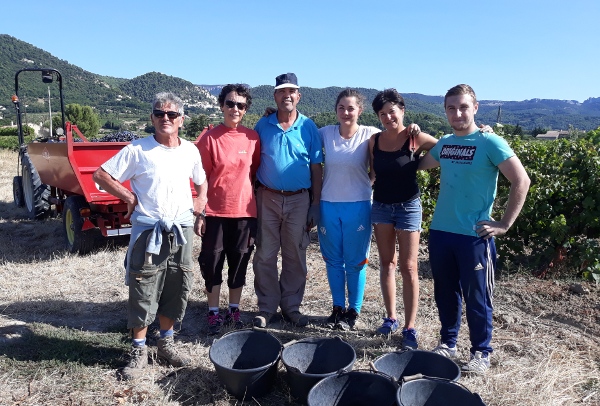 .
In 2016, the team was :
Mohamed, Denis, Juliette, Laurence, Monique, Paul. Then Hervé and Vincent (not on the photo).