The 2017-2018 Winter was properly watered, and was particularly cold. Some snow even fell on December 1st.

Spring was quite early and saw some welcome rainfalls.
Things have deteriorated from May 15 to June 15 : A succession of storms swept across France, bringing important rainfalls in our region while the temperature remained high. In Séguret, precipitation reached 200 mm during this period. The Mistral (dry and cold north wind) does not come to dry the soil. The treatments against the mildew of the vine became difficult. The disease (downy mildew) began to develop, and strangely, particularly attacked the young bunches of grapes.

Fortunately, the alternating grassing of the vineyard at the estate has allowed the passage of treatment equipment despite the fact that soils are soggy.
Being in conversion to Organic has not been penalizing at all. The vineyard has been fully protected. In spite of everything a small loss of harvest has been observed: It has been estimated at 5-10% of the production.

The summer of 2018 was hot and dry. A single storm brought us 80 mm of water in early August. This rain was beneficial and allowed the vine to have a good water supply until the harvest. This rain, however, delayed the harvest date by about a week.

The harvest began on August 24 at the Domaine de l'Amauve with the harvest of black Grenache and Syrah for Rosé Vaucluse I.G.P. They continued then with the Côtes du Rhône Villages SEGURET rosé. The first batch of white wine: Grenache Blanc and Viognier was then harvested on August 31st.

We then took a break for 7 days to wait for the full phenolic maturity of Syrah and Grenache Noir. The harvest have start again for the red grapes on September 7th and have ended on September 19th.

The rosé and white wines present a beautiful freshness based on a soft and natural acidity, as well as pretty pure fruity and floral aromas.
The red wines have a nice deep color, plenty of fine tannins, and have a very beautiful fruity expressions.

This vintage was very special considering the exceptional climatic conditions encountered in May-June, however, the very beautiful back season allowed us to obtain a superb maturity of the grapes as well as an irreproachable quality of the grapes.
.

The team for the harvests in 2018.


.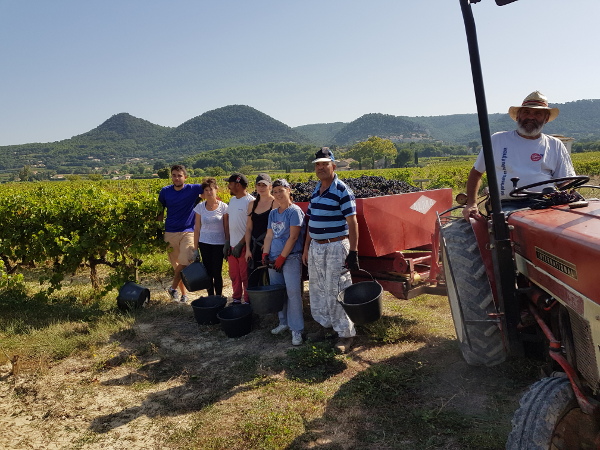 .
.
The pickers at Domaine de l'Amauve in 2018 were: Laurence, Juliette, Blandine, Paul, Colin, Nicolas, Jean-Pierre, Mohamed, Romain.